SINO TRUCKS ASIA CO.,LIMITED

The headquarters of SINO TRUCKS ASIA CO.,LIMITED (SINOTRUK) is located in Jinan city, Shandong Province, China. It is the cradle and leading production base of the heavy-duty truck industry in China. It is famous for developing and manufacturing the first heavy duty truck -- "HUANGHE" brand vehicle model JN150 in China, for successful introducing the "STEYR" heavy duty truck production project, and for setting up a joint venture with VOLVO to manufacture the heavy duty trucks with up-to-date international level.
SINOTRUK was founded on the basis of Jinan Automobile Works (JAW). JAW was founded in 1935, and mainly manufactured spare parts of trucks. It started developed and manufactured heavy duty truck in 1956 and became a manufacturer of heavy-duty truck in China. -- "HUANGHE" brand vehicle model JN150 with payload 8 tons in April 1963, ended the history that heavy-duty truck cannot be manufactured in China. Chairman Mao Zedong visited this sample truck when he surveyed Jinan on April 4th, 1963. Commander Zhude signed the name of "HUANGHE" for this truck. Since then, CNHTC manufactured several hundred thousand units of heavy-duty trucks, made an important contribution to the developing of civil economy.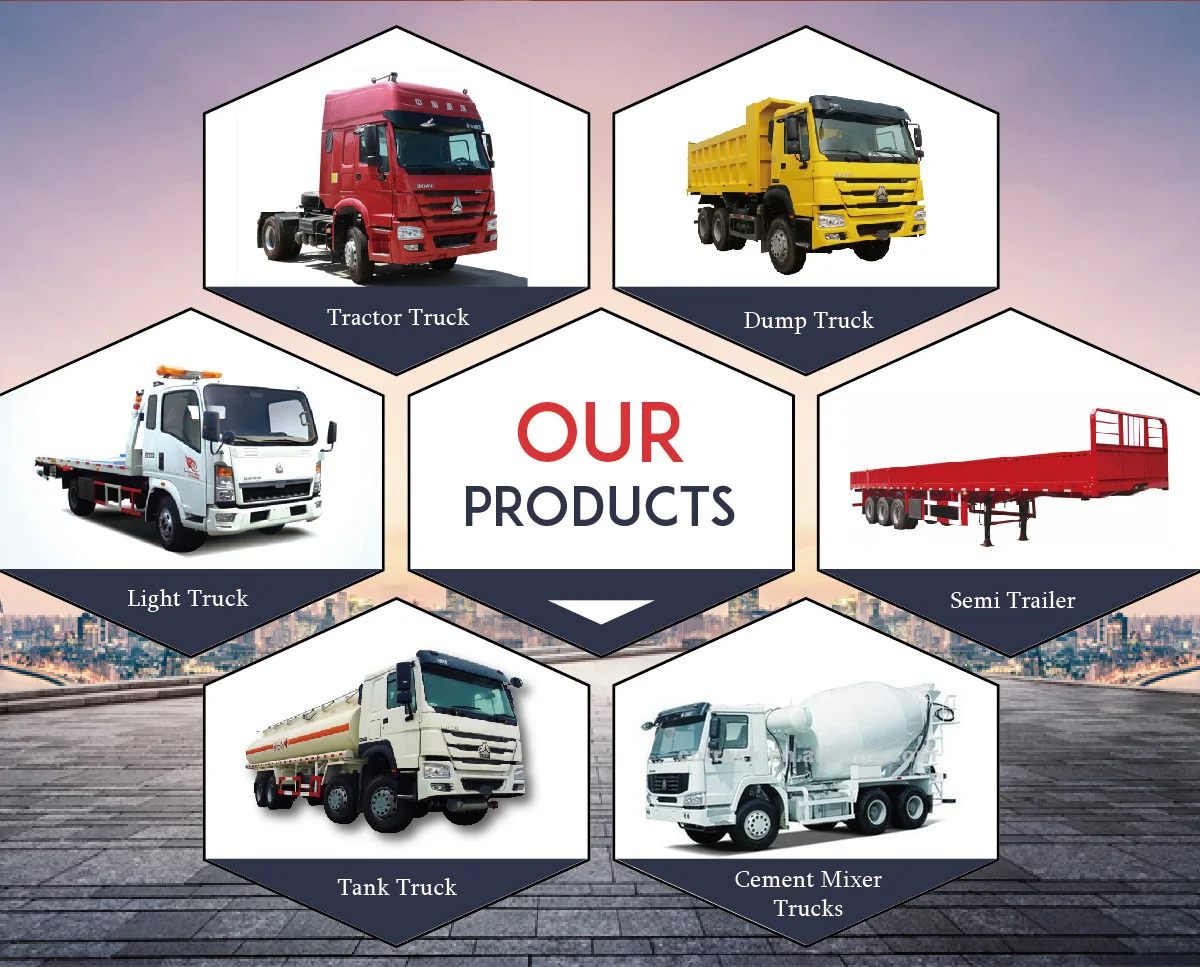 Whenever you need a special-purpose truck or truck replacement parts, talk to experts at Sino Trucks Asia Co.,Limited, they are trained to know and happy to help. We carry a comprehensive line of dump trucks, concrete mixer trucks, semi-trailers, tractor units, and water trucks.
From our ISO9001 certified manufacturing facility, which spans 30,000 square meters, we are able to produce 120,000 special purpose vehicles per year using more than 150 sets of manufacturing equipment, including the press brake, plate shear, NC plasma cutter, and the uncoiler. We own and operate a modern truck manufacturing line, delivering reliable special-use trucks bearing CCC marks to Southeast Asia, Africa, North America, Russia, and the Middle East. By leveraging more than 15 years of experience in serving the trucking industry and introducing ground-breaking special truck design, we been all the times taking the lead in technological innovation, product research and development, process improvement, manufacturing, and quality management.
Our MIIT-designated special-purpose vehicle research center is home to 36 senior professionals and 520 technical workers. The winning of over 30 national patents is a testament to our technical strength, which empowers us to continue upgrading our existing
products and developing new technology.




If a worker wants to do a good job, he must first sharpen his tools

Only first-class enterprises and first-class products can have first-class R&D capabilities. Customer demand has always been the driving force and innovation of Sinotruk, and the core driving force of Sinotruk's product research and development. Sinotruk is committed to providing tailor-made solutions for our customers.

As you would expect, all Sinotruk vehicles have a complete set of manuals and documents to support their operation and ownership. This includes operation and maintenance manuals and equipment technical data to ensure you have the information at your convenience.